Discover more from My Newsletter "about Norwich"
My stories are about people and events in Norwich and sometimes out and about the Upper Valley, The stories are meant to inspire and bring the community together. I will do my best to write positive stories and offer you some informative topics also.
A local tribute video for a special Peace Officers Memorial day
National Police Week, A tribute to the fallen/disabled in the line of duty
Peace Officers Memorial Day
Celebration
Description
Peace Officers Memorial Day and Police Week is an observance in the United States that pays tribute to the local, state, and federal peace officers who have died, or who have been disabled, in the line of duty. It is celebrated May 15th of each year. 
Date: Friday, May 15, 2020
Also called: National Police Week
I have included 3 short videos of today's ceremonial event and all can be accessed by clicking the below link
https://share.icloud.com/photos/0KskuYtCtTfPeXj5h8YzY731A
As you watch the videos listen carefully to the sounds of silence, even though there is traffic on the highway, and especially the chirping of the birds amidst all that is happening. The video includes a good portion of the 5 minutes of silence as well as the final salute which was given at exactly 11:00 am. It was an honor for me to be a part of this, as I knew a few fallen officers who served their country proud and I will never forget them.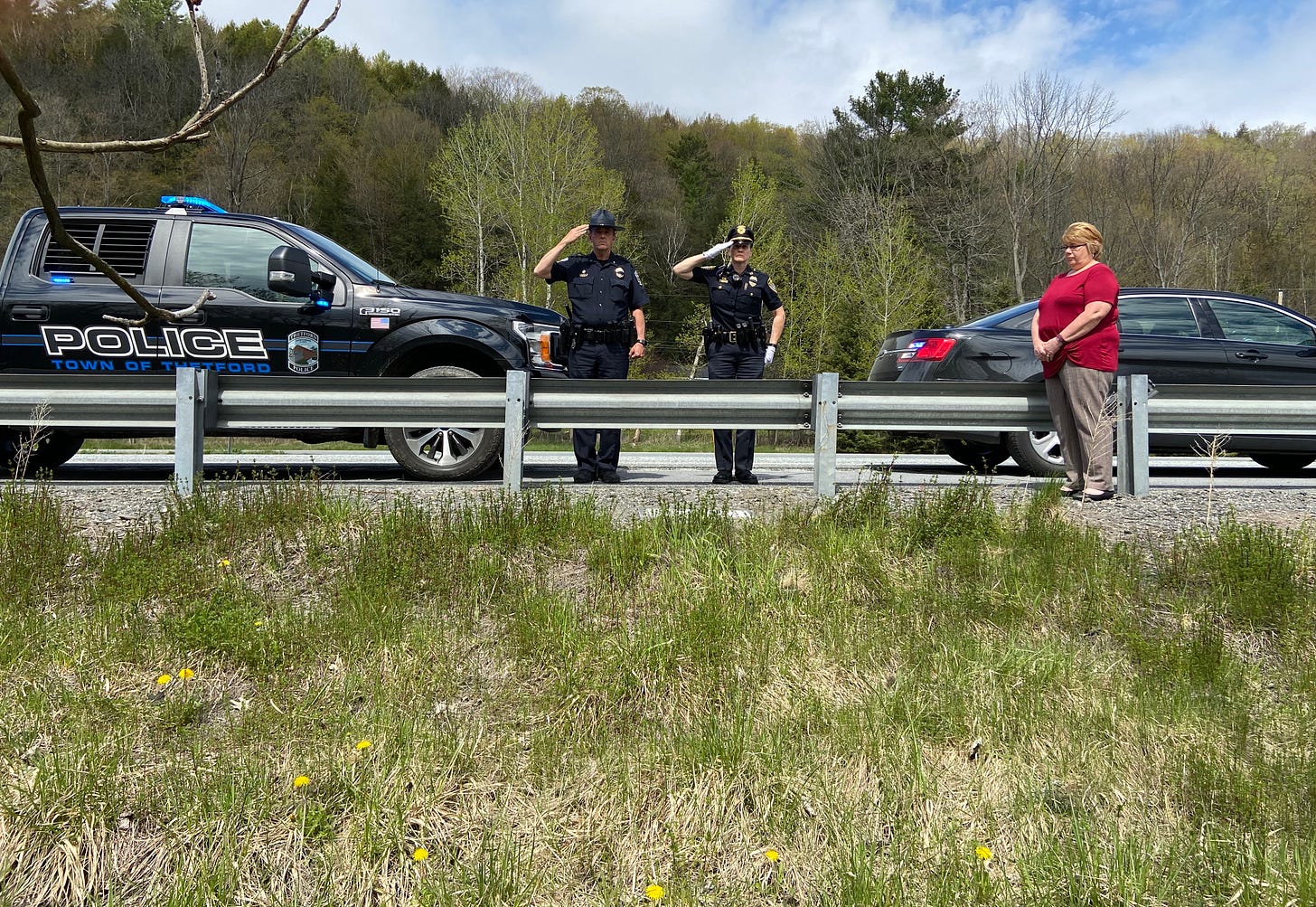 A salute to the fallen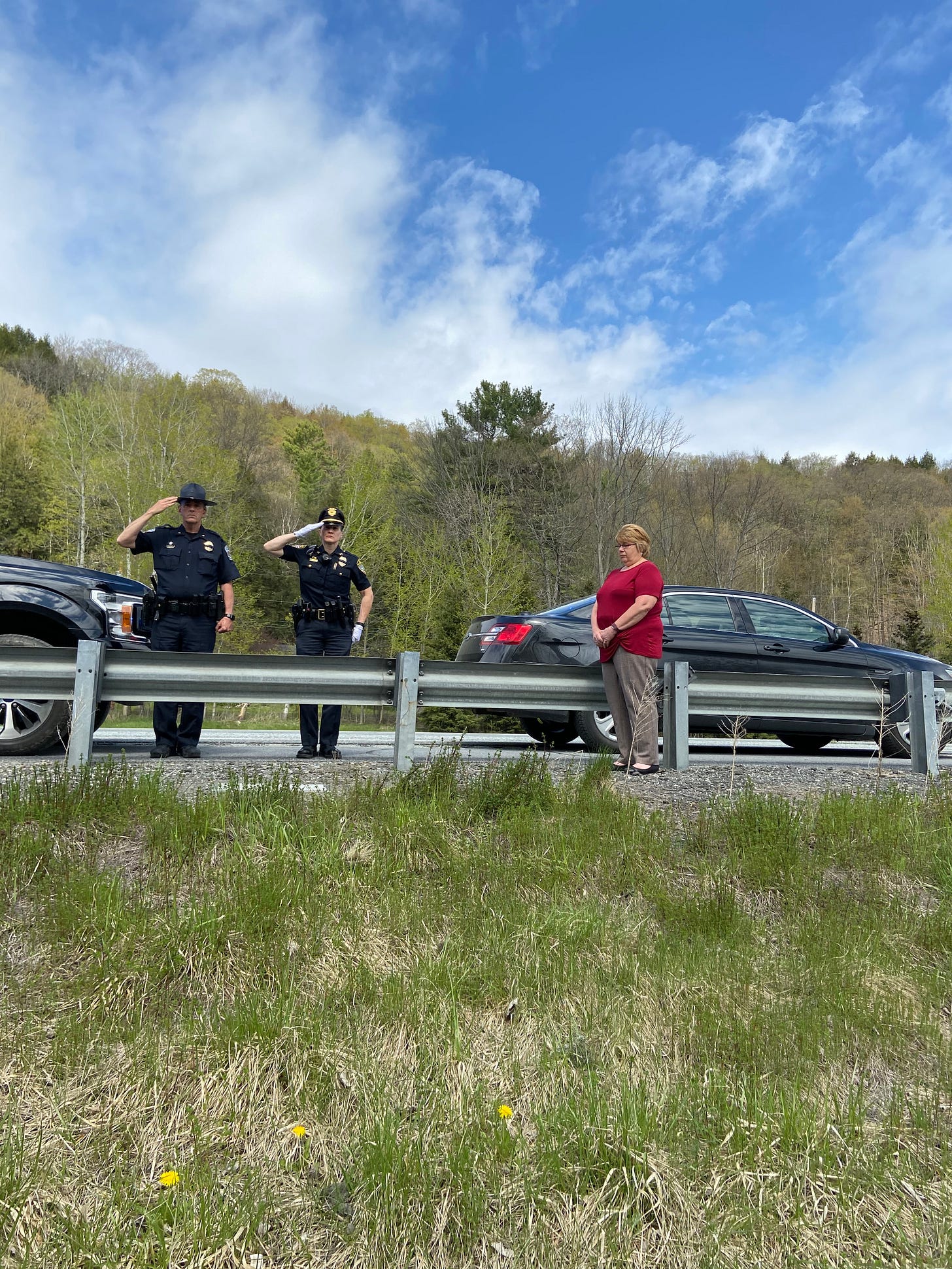 Thetford Police Chief Michael Evans, Norwich Police Chief Jennifer M. Frank and Administrative assistant Judy Powell pay their respects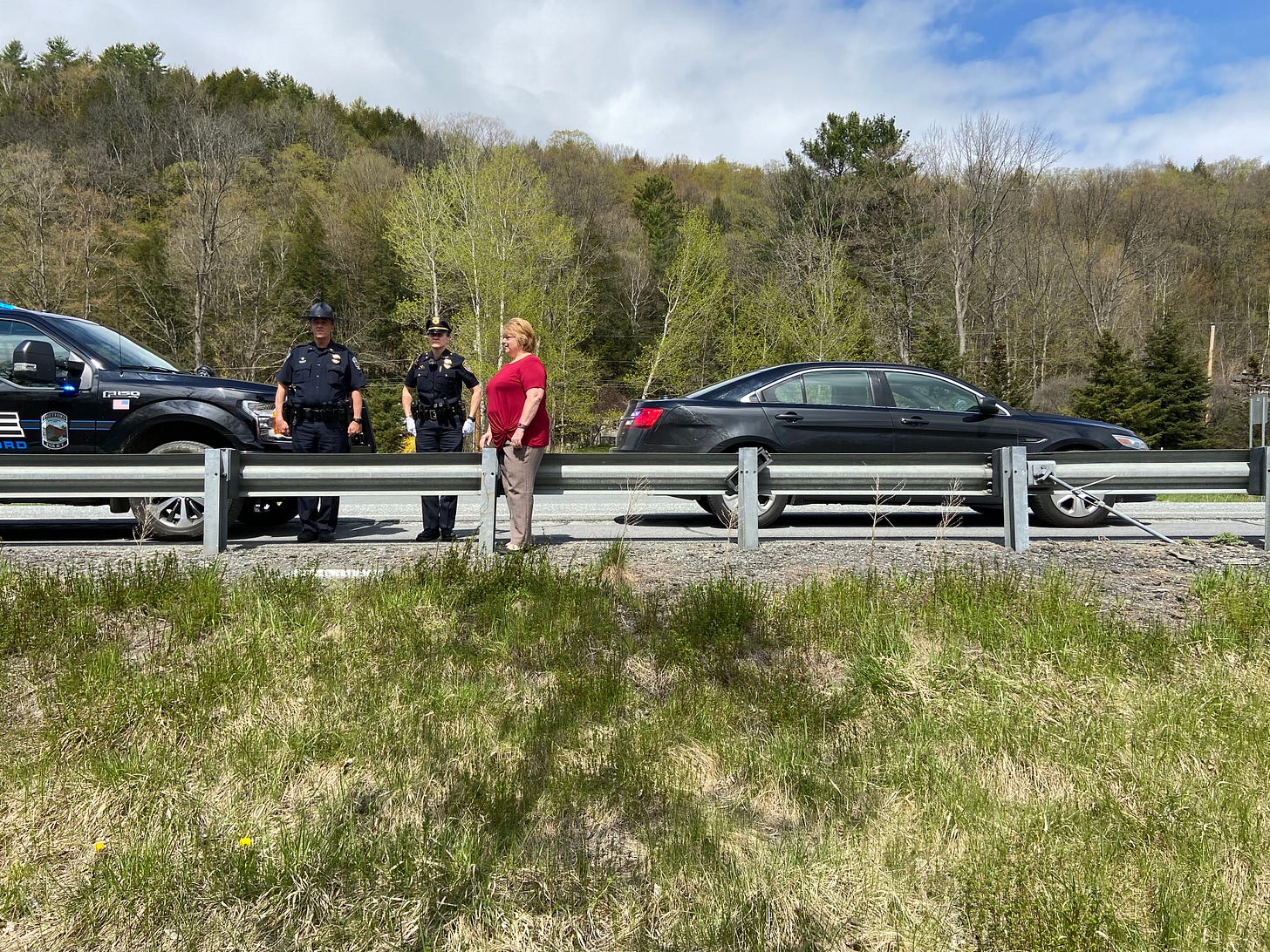 There was a five minute period/pause of silence to acknowledge the importance of this day prior to the final salute. (You can see this in detail on the 3 videos).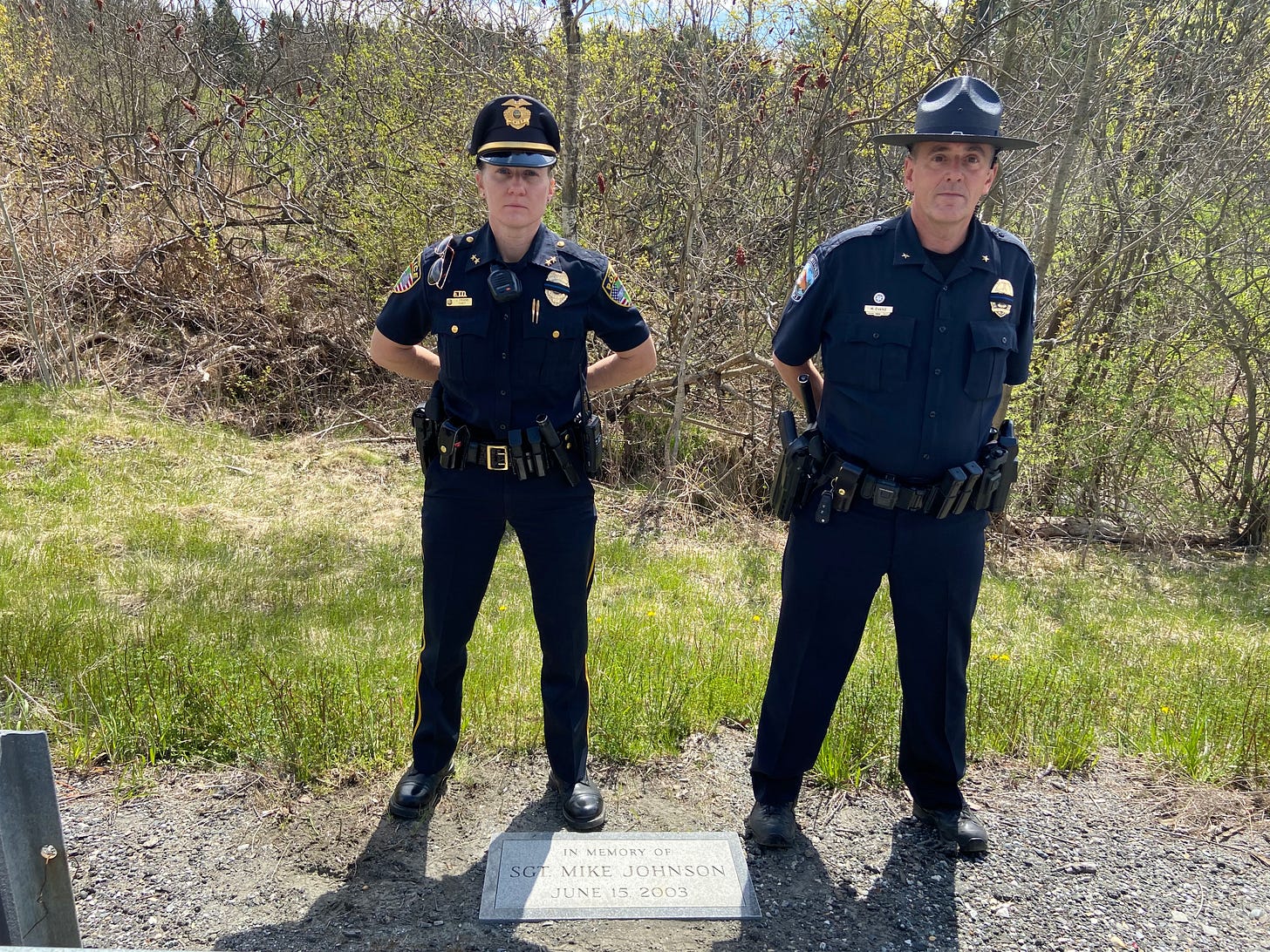 Norwich Chief Jennifer M Frank and Thetford Chief Michael Evans at the memorial for SGT Mike Johnson

Below is the press release from Chief Jennifer Frank
NATIONAL LAW ENFORCEMENT MEMORIAL DAY EVENTS
15 MAY 2020
This Friday, May 15, is National Peace Officers Memorial Day. Law enforcement officers from around the nation, and across Vermont, will join together in socially distanced spirit in remembrance of officers who have died in the line of duty.
Each year an annual ceremony is traditionally held at the Vermont Police Academy in Pittsford. This year the pandemic prevented that tradition, but instead it inspired a new one. Officers and their colleagues will stand together in a socially distanced salute both inside and outside of Vermont law enforcement stations, correctional facilities, probation and parole offices, on roadways and at remote workstations, spanning from the Shires to the Northeast Kingdom.
"Law enforcement asks all Vermonters to help us commemorate this event by taking the time to pause at 11:00 a.m. on Friday as a gesture of respect for our fallen officers," said Vergennes Police Chief George Merkel. "Whether you honk a horn or wave to an officer, or just say 'thanks' to an officer, it would mean a lot to all of us. Thank you and please be safe."
Vermonters will be honoring our own fallen law enforcement officers starting at 6:15 a.m. Friday morning. Former Barre Mayor Thom Lauzon and his wife Karen, long-time supporters of Vermont law enforcement, will place a memorial wreath on a stand in front of the State House flagpole. Following the placement of the wreath, the names of Vermont's fallen officers will be read. Police cruisers will be parked in front of the State House, with their emergency lights activated.
At 6:30 a.m., Governor Phil Scott will be observing National Peace Officers Memorial Day in front of the State House by raising the flag and then lowering it to half-staff.
At 10:55 a.m., law enforcement officers from around the state will pause to acknowledge the significance of this day, by either by exiting their cruisers or offices, activating their blue lights and coming to the position of attention. Those personnel in offices will come to the position of attention. At 11:00 a.m. dispatchers will announce the beginning of the moment of silence. Officers will render a salute for a period of one minute, after which they will resume their duties.
"When a person first enters law enforcement, they know it won't be easy, but they have no idea how hard it really is until they serve," writes Interim Vermont
Corrections Commissioner Jim Baker. "This is a job where people leave for work every day knowing they may never come
home. The loss we all feel when they don't come home – or back to work – can't be put into words. Our silence, our thoughts and our salutes will say more than we ever could to honor their memories. We hope all Vermonters will stand with us to say 'thank you, we remember you.'"
The COVID-19 crisis has significantly changed the way law enforcement officers perform their duties. Every day throughout the COVID-19 crisis, law enforcement officers around the state face potential exposure to this virus, not only placing themselves at risk, but also their families. While they acknowledge and prepare for this danger, they continue to do their jobs as law enforcement officers, protecting our communities and safe-guarding our highways
Chief J. Frank
Norwich, VT Police Department
10 Hazen Street / P.O. Box 311, Norwich, VT 05055
(802)649-1460 (Office)
(802)649-1775 (Fax)
Jennifer.Frank@Vermont.gov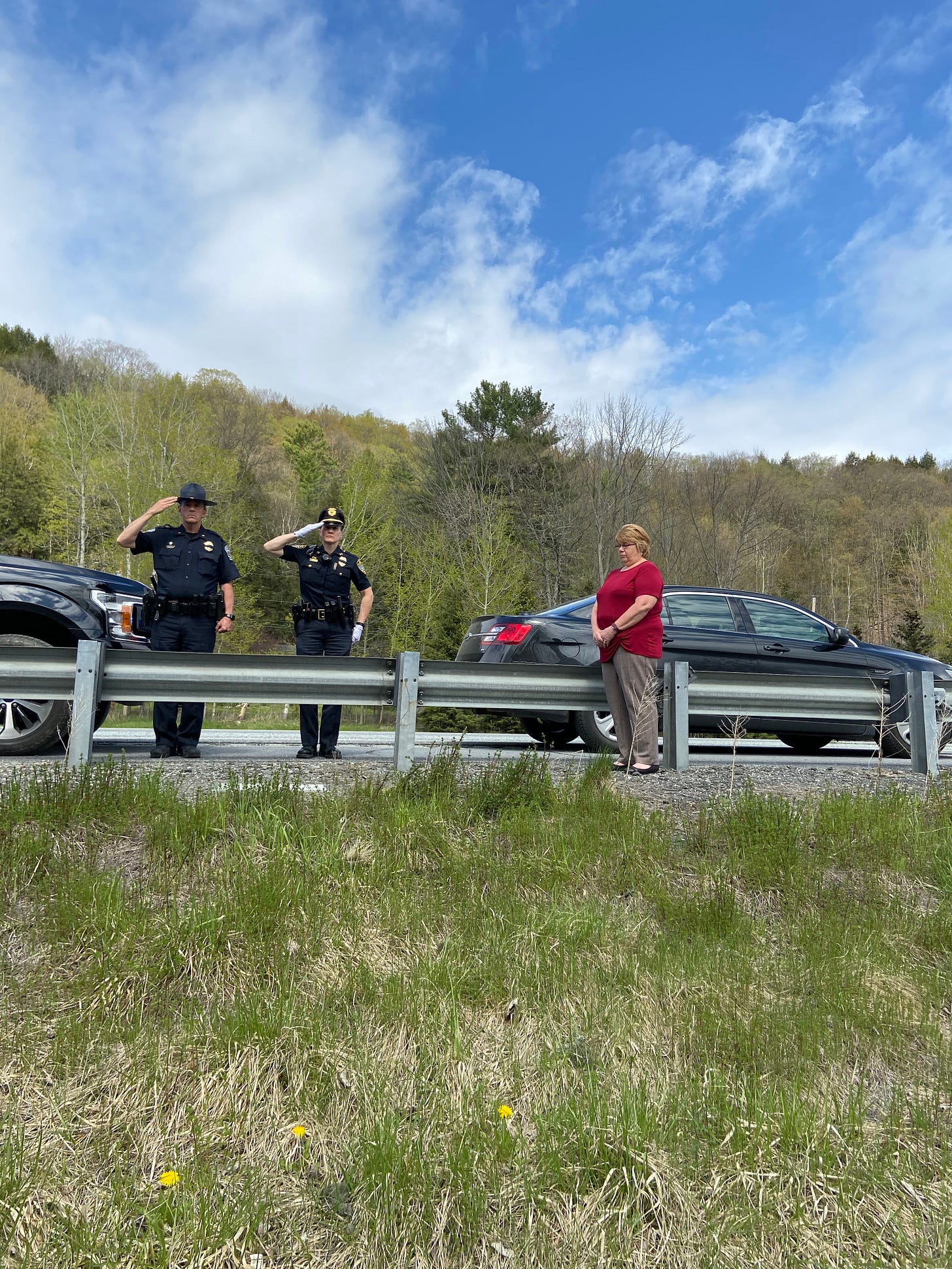 They will never be forgotten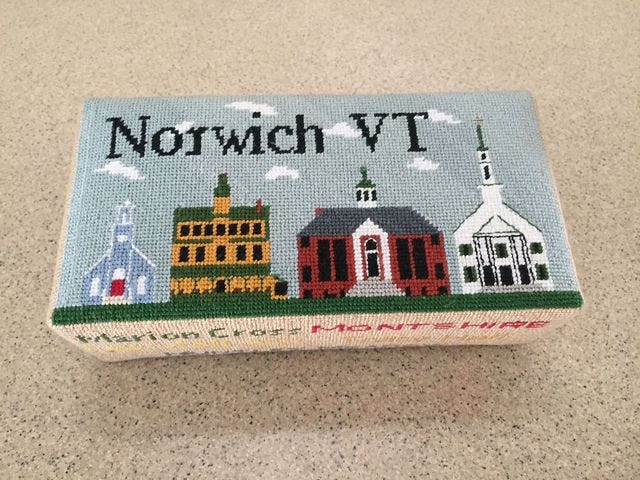 My Logo and thanks for reading