Discover more from My Newsletter "about Norwich"
My stories are about people and events in Norwich and sometimes out and about the Upper Valley, The stories are meant to inspire and bring the community together. I will do my best to write positive stories and offer you some informative topics also.
Another successful event COVID style
The outdoor setting and the open dialogue was a plus for me.
The Coffee with a Cop event is part of a National program to bring police and community members together for some one on one communication over a cup of coffee. This informal setting allows for positive feedback and improves communication between the police and the community.
This years event was COVID style to accommodate social distancing guidelines. I stopped by to take some photos and to listen to the conversations between community members present and the police. There was some nice questions being asked about several subjects to include policing during the COVID pandemic and the challenges that are presented, speeding and some crime statistics in town, the benefits of community policing and how it can help both the police and the community. This is so important as Norwich is located right near 2 major Interstate highways with lot's of traffic coming north and south of the Canadian border.
Each call a police officer answers to is so unique and they do not not know going in what the outcome will be. They have to be prepared for the unknown at all times. Safe roads to school for schoolchildren and parents alike was also discussed. I found the event very informative and liked the setting outside, with proper social distancing.
Here was the official announcement
Coffee With A Cop – COVID Style 
Come join members of the Norwich Police Department on October 6th for a cup of coffee and conversation as part of the quarterly Coffee with A Cop program.  From 3:00 pm – 4:00 pm, officers from the Norwich Police Department will be joining together with members of the community in casual conversation as part of a national community policing effort.  As a result of COVID-19 mitigations, the program will look a little different this year.  Interested community members will need to sign up ahead of time for this program, which will be limited to 10 attendees, who will each receive a special NPD coffee mug to take home with them.   Come for a few minutes or stay for the whole hour.  Either way, the coffee and a coffee mug are on us!  Looking forward to seeing you there! 
LOCATION: Foliage path behind the Norwich Police Department adjacent to the training room DATE: Tuesday, October 6, 2020
TIME: 3:00pm – 4:00pm 
COST: Free! 
REGISTER:  Send an e-mail to Jennifer.Frank@Vermont.gov 
LINK: https://www.facebo
Here are some photos of the event held behind the police and fire safety building.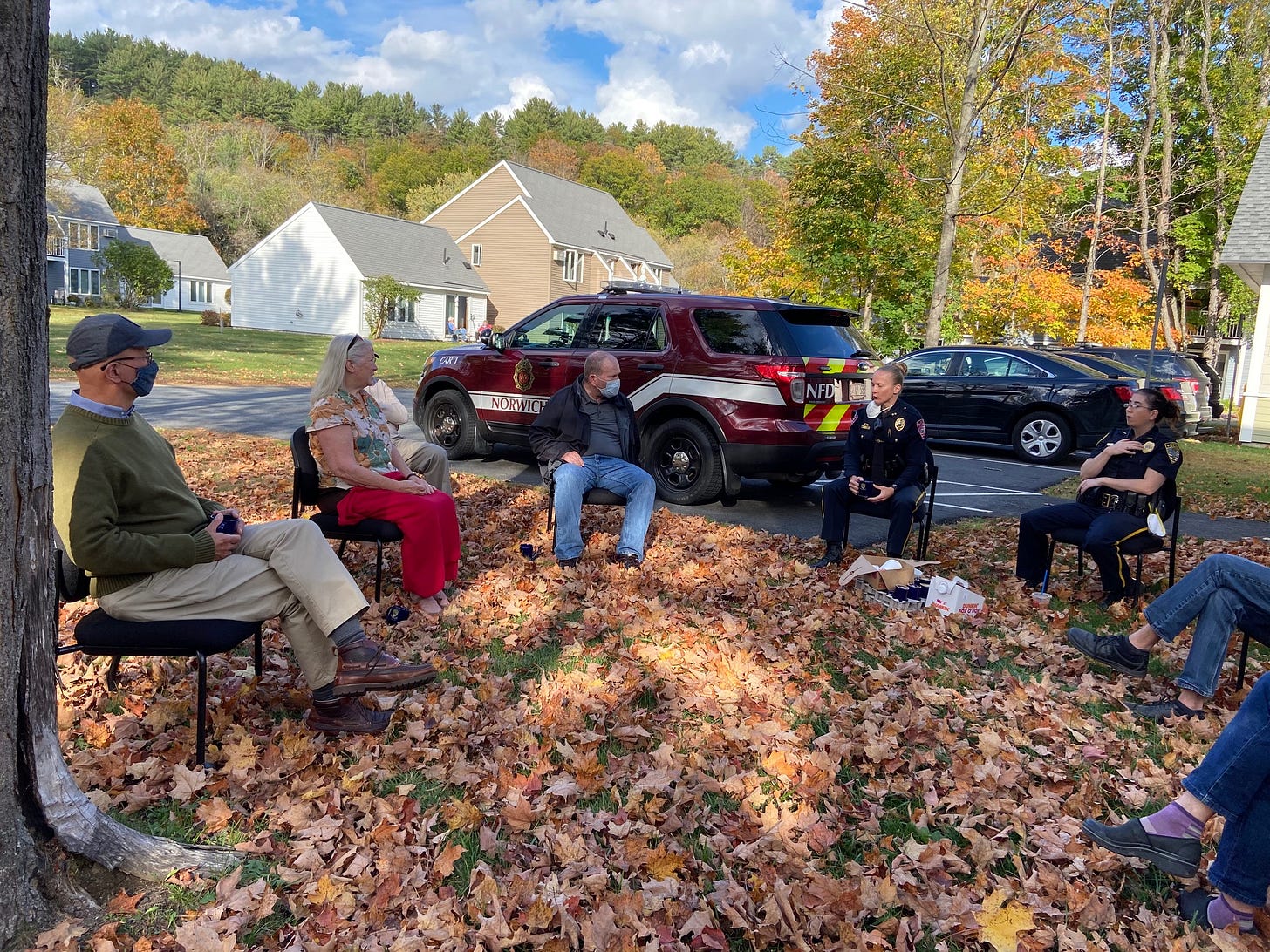 Chief Jennifer M Frank and Officer Anne Ingraham explaining the challenges of policing during the COVID pandemic and the added stress that can be present at a moments notice.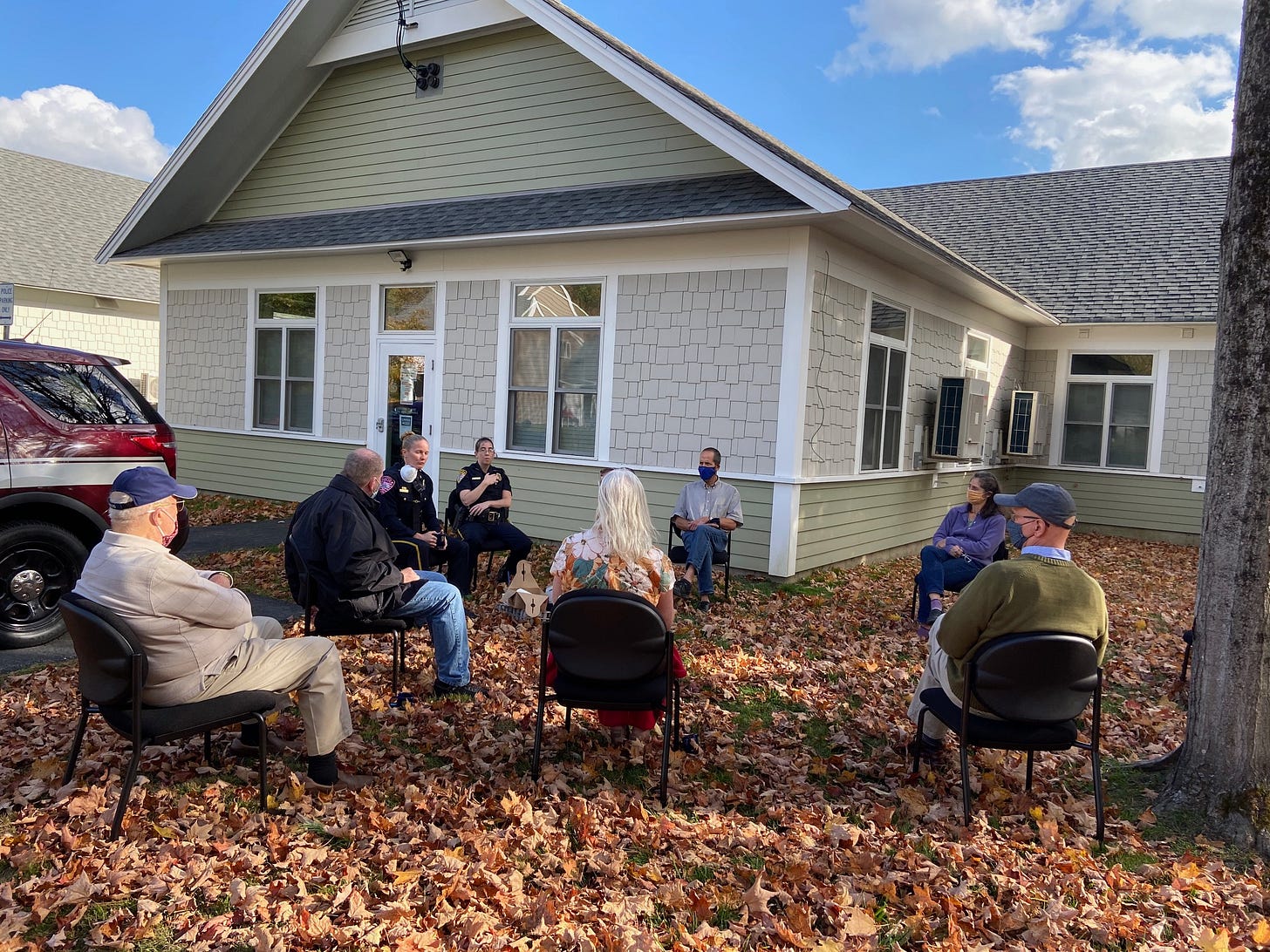 Each participant had an opportunity to weigh in and they did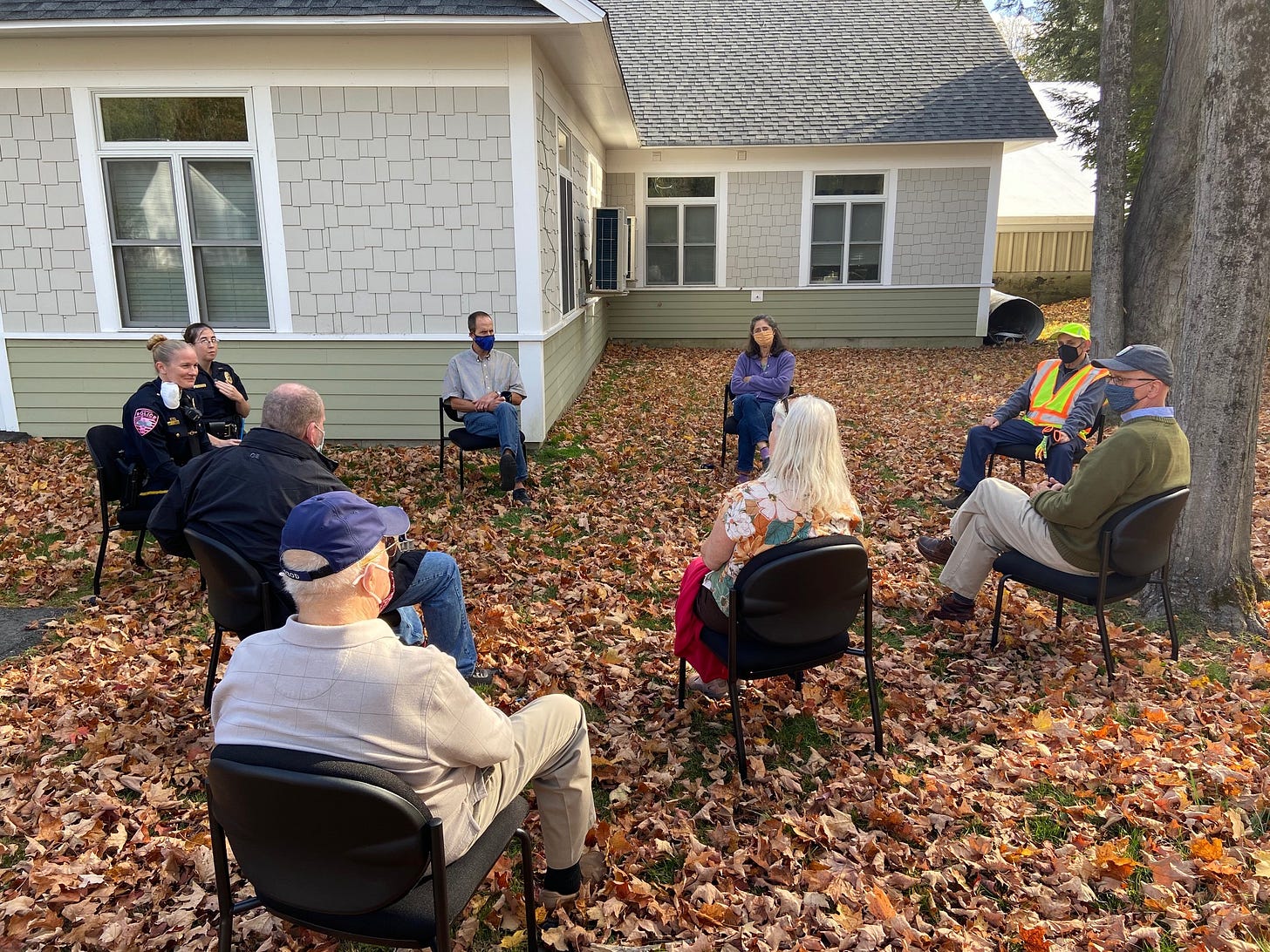 Masks were worn at all times except when drinking coffee, eating a donut or making a point to answer the questions that were asked.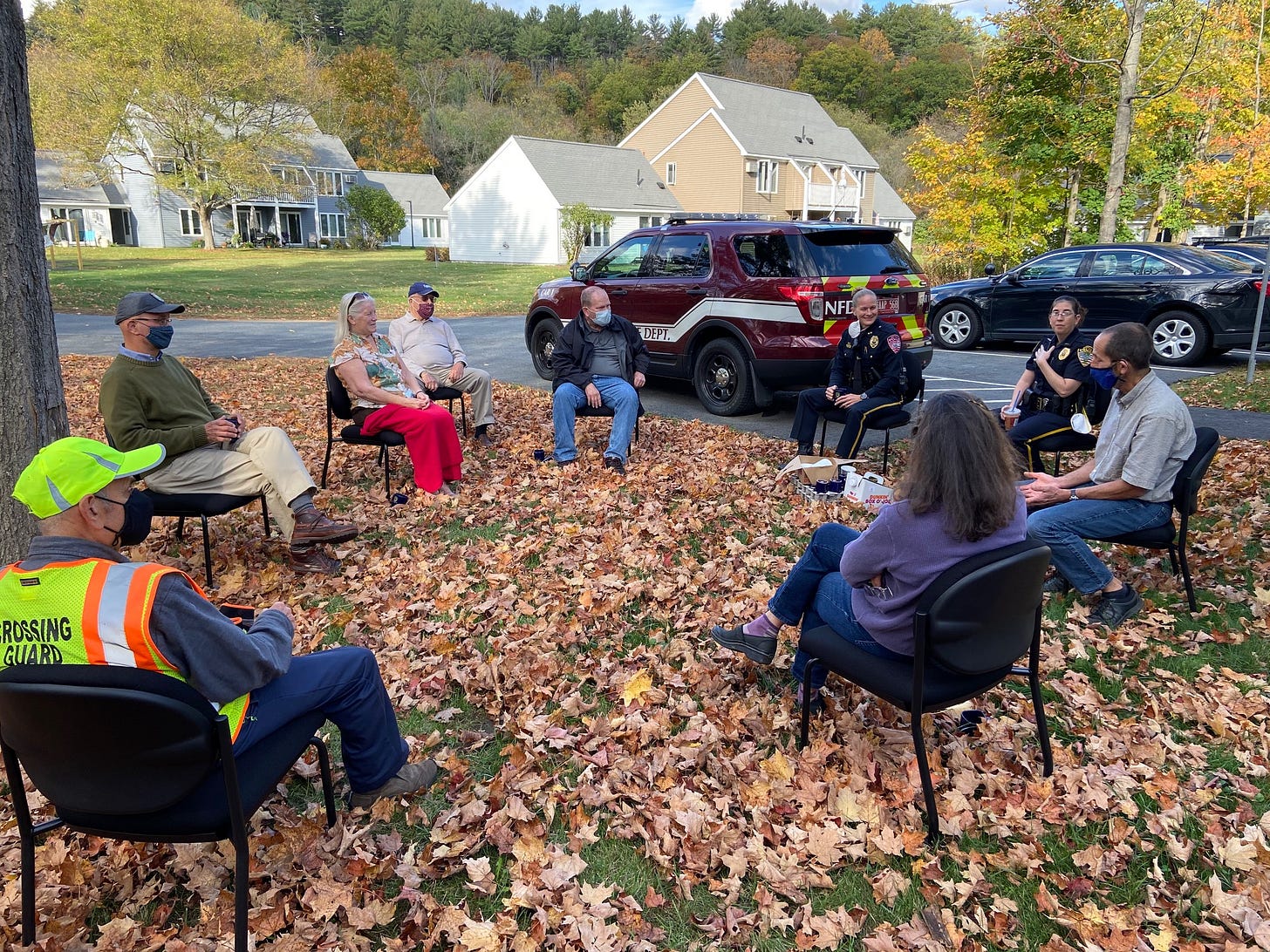 Although the group was smaller due to the pandemic, it was a very informative session.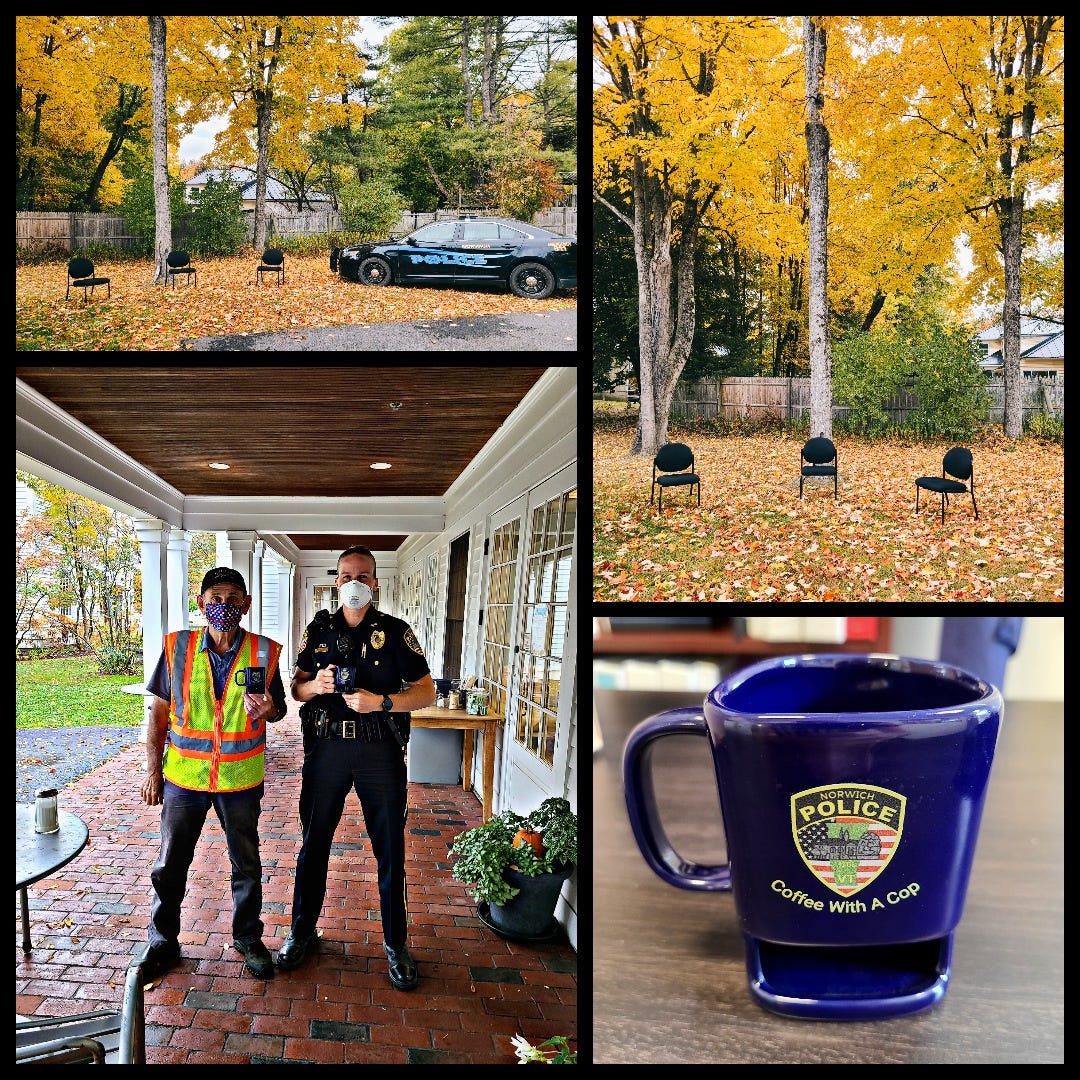 Everyone left the event with a complimentary coffee with a cop cup like the one pictured here. Stay tuned for the next one and have your list of questions ready.