Discover more from My Newsletter "about Norwich"
My stories are about people and events in Norwich and sometimes out and about the Upper Valley, The stories are meant to inspire and bring the community together. I will do my best to write positive stories and offer you some informative topics also.
Blue Sparrow Kitchen has new hours and offers a full menu on-line
This will be updated accordingly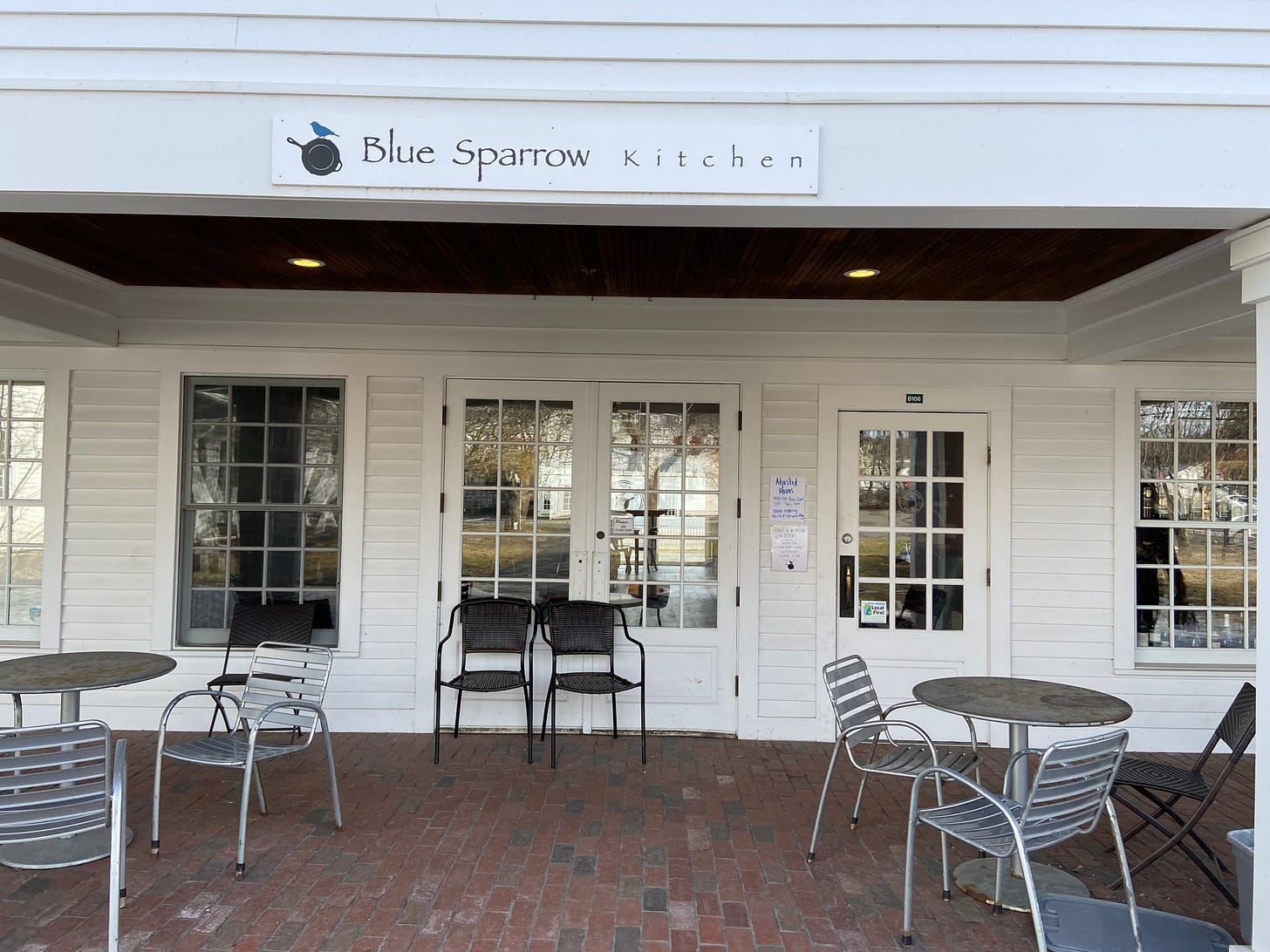 ---
This notice appeared on this mornings List Serv and I thought I would share it with you. I will be doing separate stories like this to try to help the businesses out during this difficult time. It is my way of helping out and yes it is for free. Please consider being a free subscriber to my blog.
Here is the message that appeared this morning.
21. BLUE SPARROW MENU NOW ONLINE & REDUCED STORE HOURS
From: Amber Boland <amberboland10@gmail.com>
Date: Sun, 15 Mar 2020 19:15:15 -0400

Hi Norwich!! We are open, but due to such a dramatic reduction in
patronage, we will be reducing our store hours for a period of time to
8am-2pm Monday - Friday and Saturday's 9-2.

Although we are following all of the protocols suggested by the Vermont
Health Department for restaurants (and doing more than their suggestions)
we completely understand that this may not be enough to ease those of you
at risk or concerned about our friends and family in the community. In an
effort to continue to both survive as a business and to help our community
we have put much of our menu online -BLUESPARROWKITCHEN.COM.

Orders can be placed from 7:30 am-3:00 pm every day for pick-up (extended
longer than store hours). We will put orders in a clearly labeled bag or
box with your name and place it in a "PICK UP ORDERS HERE" area just inside
the restaurant door. We would also like to offer delivery to those who
prefer not to leave their home. This service will be available generally
11-2 each day but will need to be arranged by calling us directly at the
restaurant 649-7003. We will also try to be as flexible as possible if you
need an earlier or later delivery.

Additionally, in a day or two, we will offer our catering menu online as
well. This means that you can order larger portions of our prepared foods
for you and your family such as quarts of soup, a pan of curried shepherd's
pie, or an pan of our coffee cake for example. Your orders will be ready
within 24 hours of placing them and available for either pick-up or for
delivery.

Your continued support is so, so appreciated!!

THANKS SO MUCH!!
The Blue Sparrow Crew