Discover more from My Newsletter "about Norwich"
My stories are about people and events in Norwich and sometimes out and about the Upper Valley, The stories are meant to inspire and bring the community together. I will do my best to write positive stories and offer you some informative topics also.
CSS Alabama was quite the rig
She was secretly commissioned in August of 1861
CSS Alabama - transition from sail to steam.
This ship model was built by ARTHUR SAUVIGNE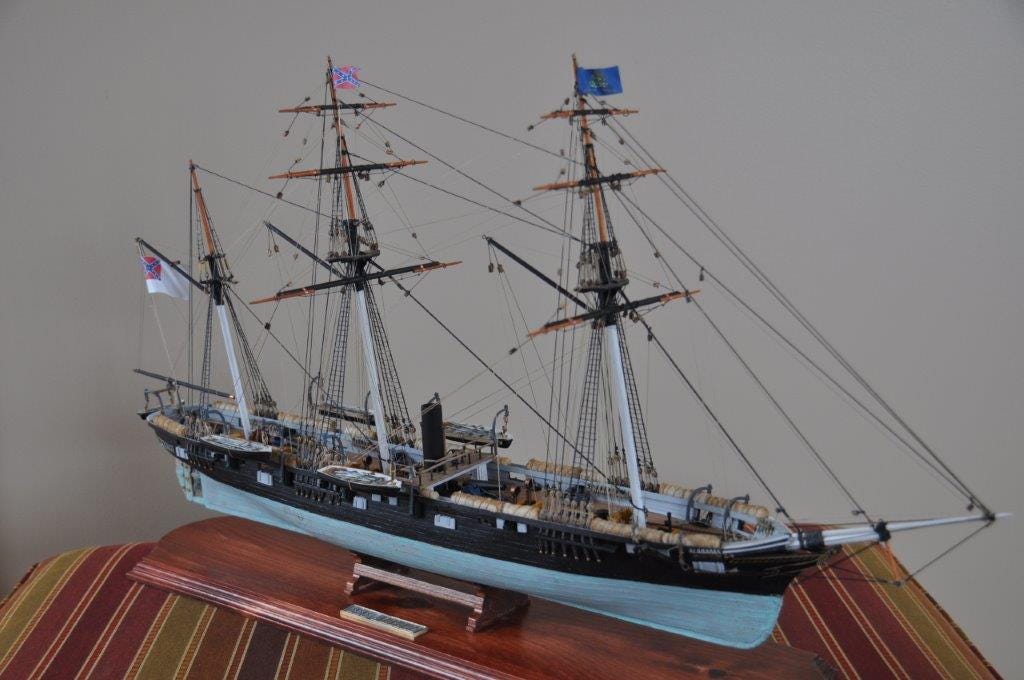 CSS Alabama was the largest and fastest of the Confederate commerce raider ships.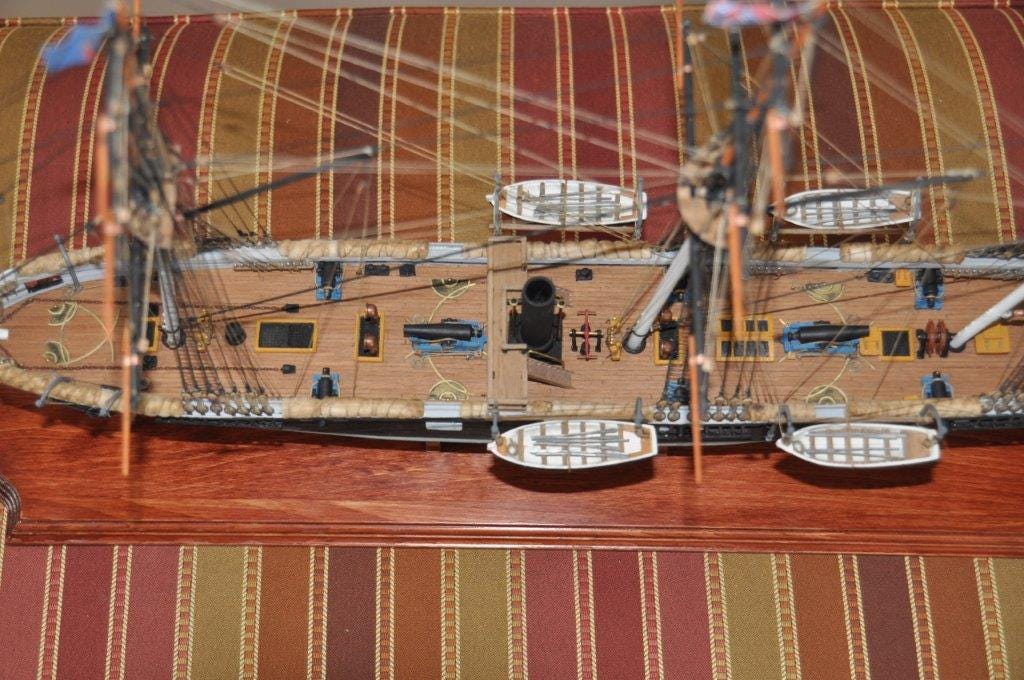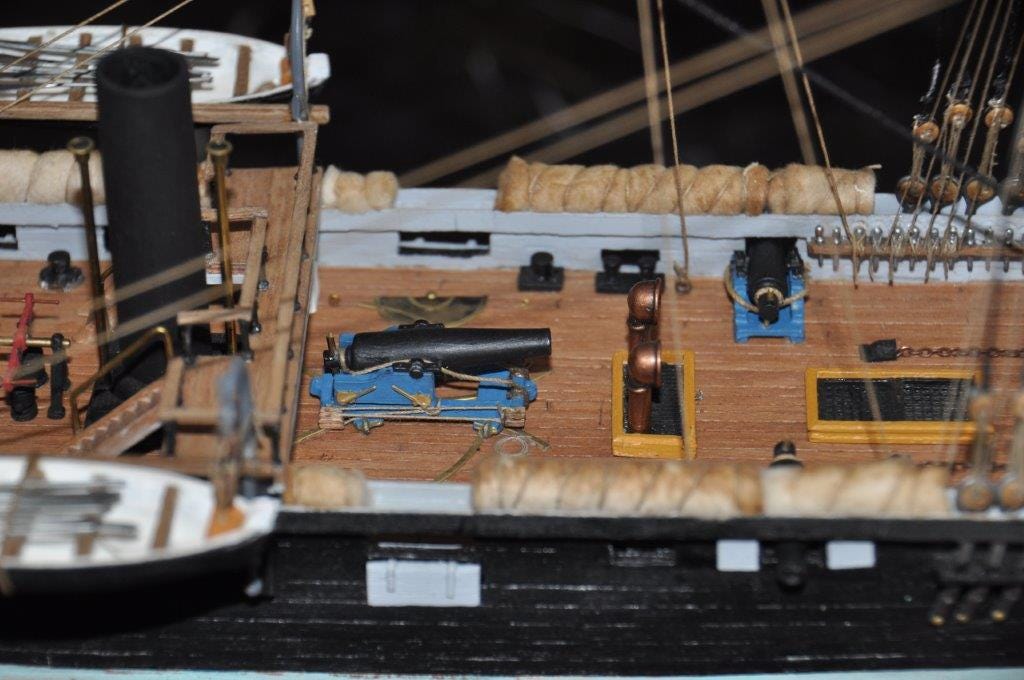 After setting up the keel and bulkheads February 2019, here she is. CSS Alabama was the largest and fastest of the Confederate commerce raiders.  In August 1861, she was secretly and illegally commissioned at the Birkenhead Liverpool dockyards as "hull 290" for 47.5K pounds. 220 feet long, 32 feet beam and a draught of only 15 feet, she could muster 14 knots under sail and 12 knots under steam with her single two bladed propeller driven by two 300HP steam engines. She was of a bark design and the prop could be raised to reduce drag while sailing.  She left England 1862 named the Enrica (despite Union and  British inspectors snooping about searching for British confederacy arms sympathizers...Britain was officially neutral)  as a West Indies trader but left for the Azores where she was outfitted with English arms, powder and coal. She was now the bars and stars flying raider named the Alabama - a very powerful privateer for her age. Alabama boasted six 32 pounder smooth bore naval cannons, a 7 inch 100 pounder "shell" firing rifled Blakley gun in the fore position and an 8 inch 86 pound smoothbore aft.  Naval "shells" were a relatively new French naval concept- the shell being the outer mantle of a usual solid cannonball now filled with explosive and fulminate of mercury detonator.

The ship's motto was "Aide toi et Dieu t'aidera" - God helps those who help themselves. She had a crew of 83-mostly British volunteer sailors as the South had no heritage of naval training. Amazingly most of the crew lasted her entire lifespan. She had a total of seven expeditionary raids and literally traveled the seven seas. She spent much time in tropical waters. Upon the completion of her seven expeditionary raids, Alabama had been at sea for 534 days out of 657, never visiting a single Confederate port. She boarded nearly 450 vessels, captured or burned 65 Union merchant ships, and took more than 2,000 prisoners without a single loss of life from either prisoners or her own crew. Her only military engagement was January 1863 when she swiftly sank the slow outmoded Union paddle wheeler Hatteras in Galveston Bay.

After 534 days at sea she needed to re furbish her hull copper plating, re seal the pistons and most importantly recharge her powder and shells. During 1864 sea gunnery trials it was noted that only 1 of 3 shells exploded and that the solid shot did not carry the usual distance. It was probably that her powder had adsorbed moisture in the South Pacific and Indian Ocean tropics. In any event she put into port at Cherbourg France in June 1864.  Work began on needed overhauls but permission was not granted for replenishing shot, shell or powder. France was neutral.

The Union warship USS Kearsage (yep, only naval ship named for a mountain) had doggedly pursued Alabama for the prior two years.

Kearsage now had Alabama effectively blockaded. Kearsarge was a heavier ship but Alabama was faster with longer range, more powerful guns. Kearsarge had a four bladed prop which allowed better steam power response. Under French armed escort (la Couronne) to assure any fighting was outside French waters, she left Cherbourg harbor. The battle lasted one hour; Alabama engaged first and fired many more shots than Kearsarge and actually lodged a shell in the rudder post that did not explode.  Kearsarge waited until distance closed under 1000 yards before firing 11 inch shells. Superior Union Naval training, gunnery, aiming and fresh powder left the Alabama rapidly sinking by the stern.  She was under 240 feet water in less than ten minutes. Admiral Semmes of the Alabama escaped in a British yacht and had hurled his sword into the sea rather than surrender it to a damned Yankee. He was captured in Mobile 1865 and imprisoned for violations of the "usages of war" but pardoned by Pres Andrew Johnson. The US under great public outcry sued Great Britain for illegally aiding the Confederacy and awarded $15.5 million at the Geneva Arbitration of 1872.  Alabama alone amounted to $7 million of the claim.

The canons, capstan, wheel and the bell of the Alabama were recovered by a US-French dive team in 1988-90. Many artifacts are still being raised. The hull remains intact and upright on the sea floor. Photo allegedly taken right after the sinking of Alabama...both Dahlgren smooth-bores still pivoted and extended outboard to starboard. On the model you can see how the large guns pivoted on tracks and then the upper carriage slid forward. The gunnel section pivot down.  I used 1/4 inch tea stained dental cotton rolls to simulate the canvas cots, sails etc that were stuffed into  the gunnel walkway to protect crew from shrapnel and wood splinters. There was provision for a bow pivot gun but none ever added.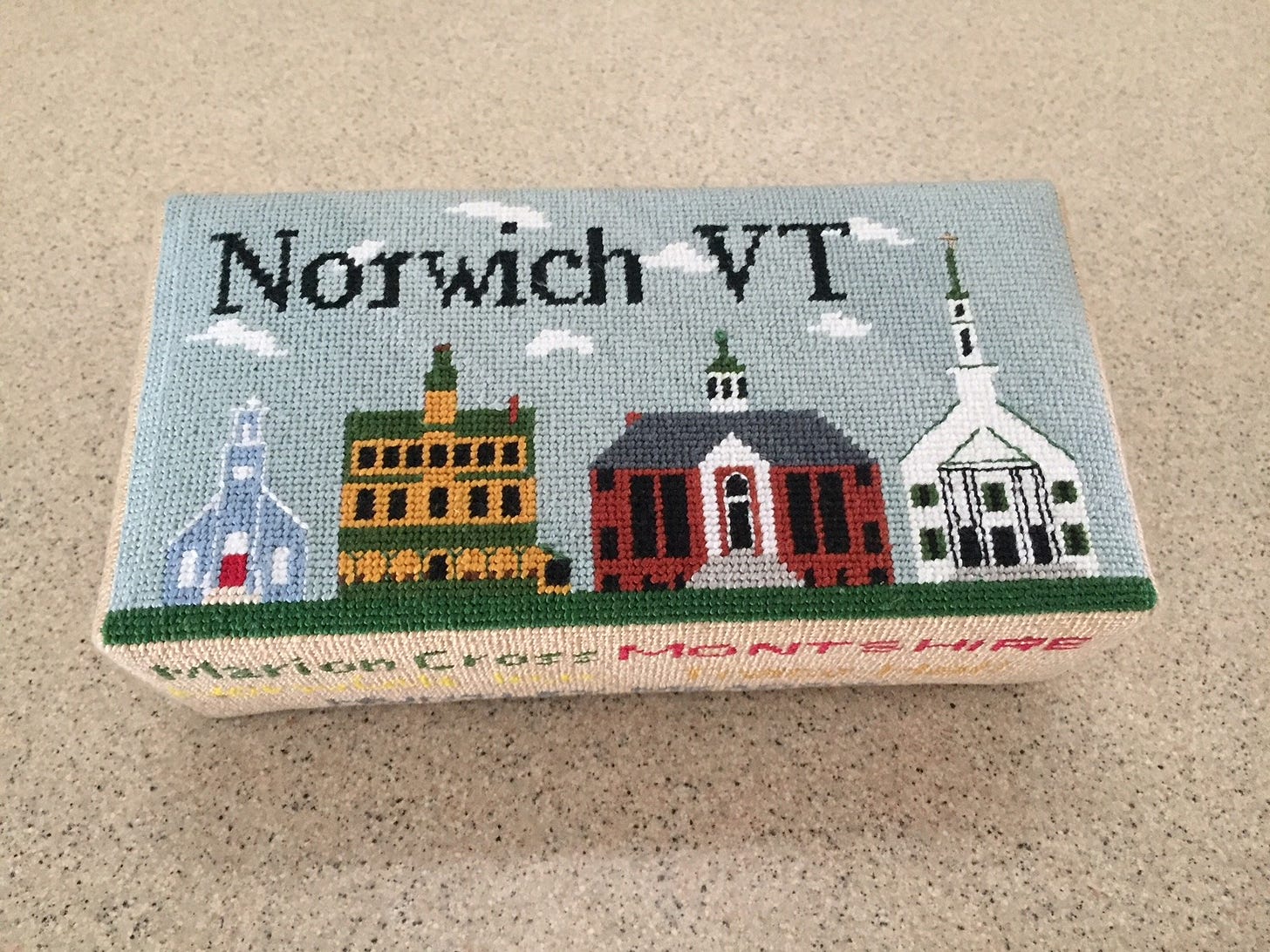 My Logo