Last chance to take the Beaver Meadow Scoping Study Survey.
The last day for the survey is 9/30/20
Hello Norwich and beyond, I am posting this message which appeared in a previous List serv post to remind you that there is still time to have your voice heard by participating in the Beaver Meadow Scoping Study survey. You can take it by clicking this link: https://storymaps.arcgis.com/stories/a63304999b9541db84312e27c2fece8d
Once you open it you can scroll through to learn more and then take the survey at the end. You can also watch the Zoom meeting video in case you missed it in the link below:
The direct download for this video can be found here:

https://us02web.zoom.us/rec/play/UwPmYCAO_i3jjYgn8XsIxaObBzD9OpCYYZP8BQF9DseKSGM0B3nPQ-Ds3NzcE_QGnamDiQC7VKvT2zt7.bG78Ln7oMYspDeW2?continueMode=true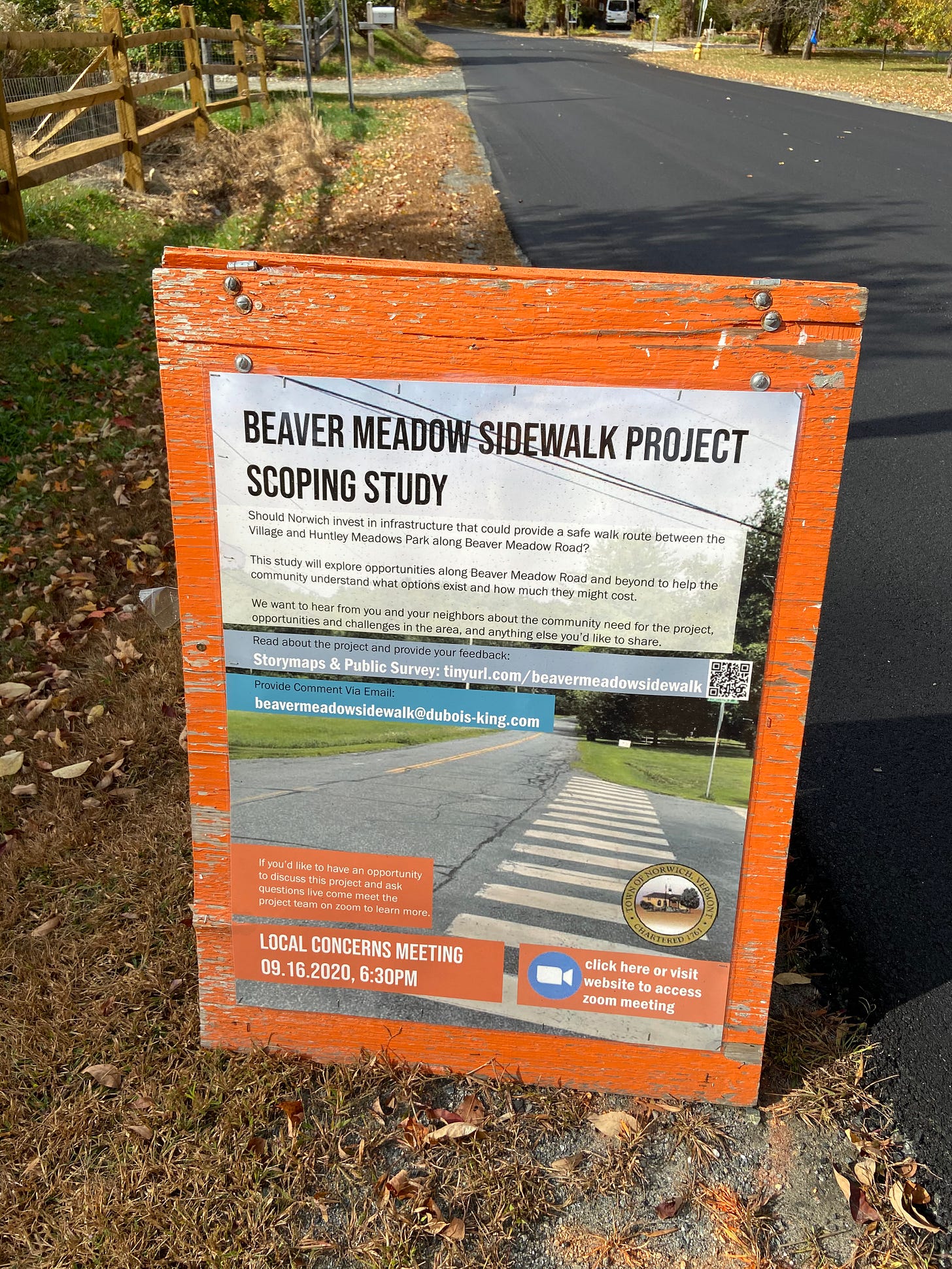 Sign advertising the Zoom meeting which was held on 9/16/20. There is still time to take the survey however.
The Town Managers message that appeared on the List serv
20. Beaver Meadow Rd Sidewalk Scoping Project - Update
From: "Herbert Durfee" <hdurfee@norwich.vt.us>
Date: Tue, 22 Sep 2020 08:37:36 -0700

Thanks to everyone that participated in the productive and vibrant discussion during last week's public input forum.  A video recording of the meeting has been posted on the project website:

https://storymaps.arcgis.com/stories/a63304999b9541db84312e27c2fece8d

The direct download for this video can be found here:

https://us02web.zoom.us/rec/play/UwPmYCAO_i3jjYgn8XsIxaObBzD9OpCYYZP8BQF9DseKSGM0B3nPQ-Ds3NzcE_QGnamDiQC7VKvT2zt7.bG78Ln7oMYspDeW2?continueMode=true

The summarized meeting notes soon will be posted on the project website.  

The project team spearheaded by DuBois & King (D&K) will continue to work on developing the existing conditions and purpose & need elements of the scoping study. D&K also will collect and summarize public input received via email/meetings and via the survey. The insight then will be circulated to the project team for review. Another public input forum will be scheduled thereafter.

Note that the public survey will close in about one week (i.e., 9/30). So, if you haven't completed a survey, please visit the website listed above (i.e., the "storymaps" link) where you can find a link to the survey.

For informational purposes, the project team will be meeting some time in mid to late October. In the interim, please check the "storymaps" link for periodic updates. Other than the above, if you have questions, please reach out to my office: hdurfee@norwich.vt.us or 802-649-1419 x1.

Herb
Herbert Durfee, III, Town Manager