Discover more from My Newsletter "about Norwich"
My stories are about people and events in Norwich and sometimes out and about the Upper Valley, The stories are meant to inspire and bring the community together. I will do my best to write positive stories and offer you some informative topics also.
News at the Norwich PD, Cadets are conducting saturation patrols, a COVID-19 update and a foot patrol on a rainy day.
What is a saturation patrol you ask ? Read on to find out
Operation Safety Cone is in full effect and coming to a community near you!
The Norwich Police Cadets are conducting saturation patrols throughout the communities they represent looking to "catch" local youth behaving in a safe manner. Free ice cream "tickets" are being issued in record numbers as the kids are out and about actively trying to "get caught" by the police cadets for: using crosswalks to cross the street, wearing a seatbelt while riding in vehicles, and using helmets and elbow pads when riding bicycles and scooters, among many other safe choice behaviors. A local Norwich resident last year was even quoting as saying; "You can't go anywhere in this town without being rewarded for being safe or for doing something right. I wish you had this program for adults!" The Norwich Police Cadets are proud to be a part of this great program, and excited to continue to foster a culture of safety among our youngest residents in their various communities. The Norwich Police Cadets are comprised of youth from Norwich, Windsor, Hartford, Canaan, Enfield, White River Jct. and Woodstock.
Week 1: 09/03 - 09/10/2020: Windsor Community
Students in the area "caught being good" and "being safe" will be issued a ticket that is redeemable for one free ice cream cone at Boston Dreams on Main Street. The safety cone incentive sponsored by the Norwich Police Department, Norwich Police Cadets, and Boston Dreams hopes to provide positive reinforcement for making safe decisions such as choosing to wear a helmet when riding a bicycle or scooter, using the crosswalk to cross the road, and wearing a seatbelt when riding in a car.
#OPERATIONSAFETYCONE
#NPDCADETS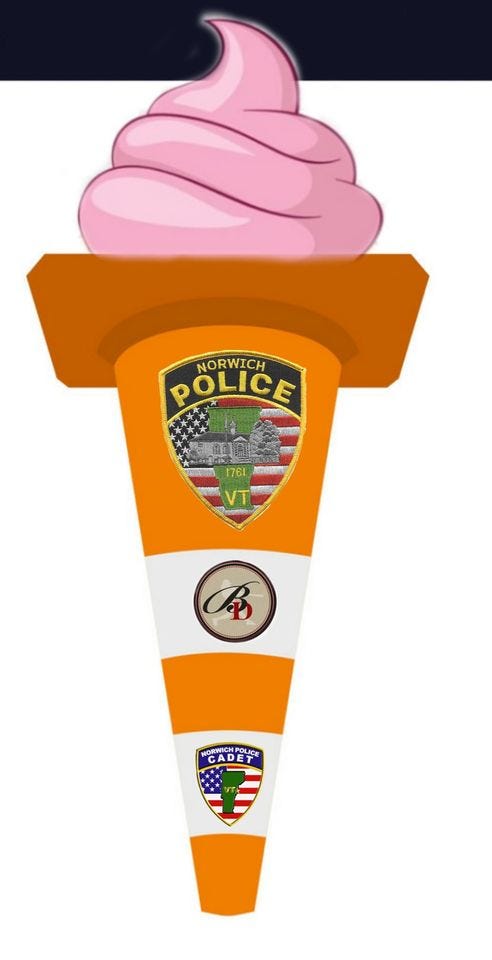 Here is the latest update on COVID-19 in Vermont and New Hampshire
47. COVID-19 update
From: "Frank, Jennifer" <Jennifer.Frank@vermont.gov>
Date: Wed, 2 Sep 2020 00:32:59 +0000

1. The Health Department continues to investigate an outbreak of 14 positive COVID-19 cases associated with people who attended, or whom have been in contact with people who attended, a private party at the Summit Lodge in Killington on 8/19/20.

2. In VT, 92% of contact tracing interviews occur within 24 hours.

3. Current COVID-19 Activity in VT (NH)
- Total cases: 1,635 (7,297)
- Currently hospitalized: 2 (8)
- Hospitalized under investigation: 11
- Total people recovered: 1,432
- Deaths: 58 (432)
- People tested: 138,446
- Travelers monitored: 628
- Contacts monitored: 75
- People completed monitoring: 7,656

4. New Hampshire schools will receive 230,000 cloth face masks as part of a nationwide program to distribute masks to schools.

Chief Jennifer Frank, Norwich, VT Police Department
10 Hazen Street / P.O. Box 311, Norwich, VT
(802)649-1460 (Office), (802)649-1775 (Fax)
Jennifer.Frank@Vermont.gov
(Sent via mobile device)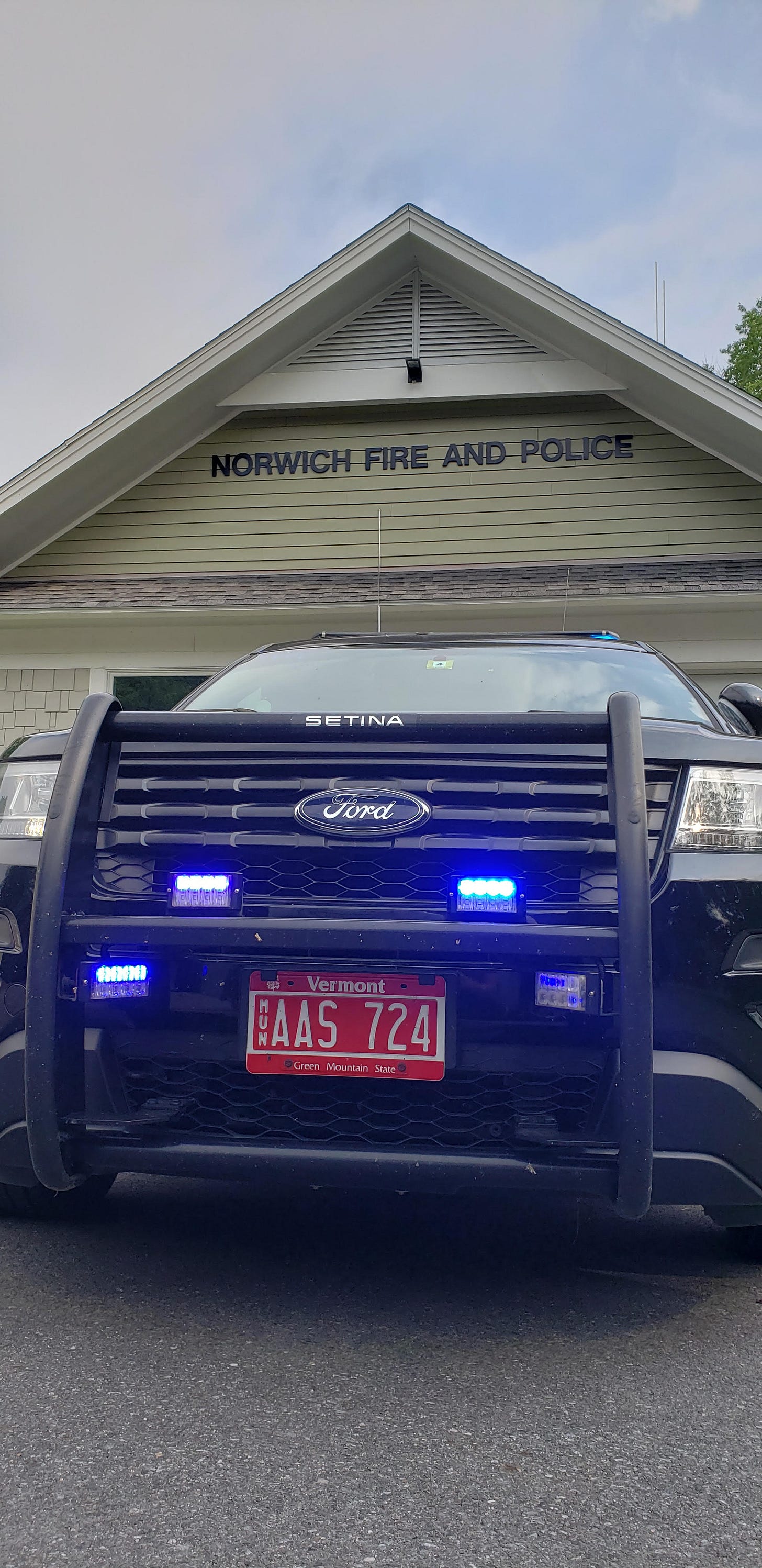 8 hrs · 
A little morning foot patrol in the rain.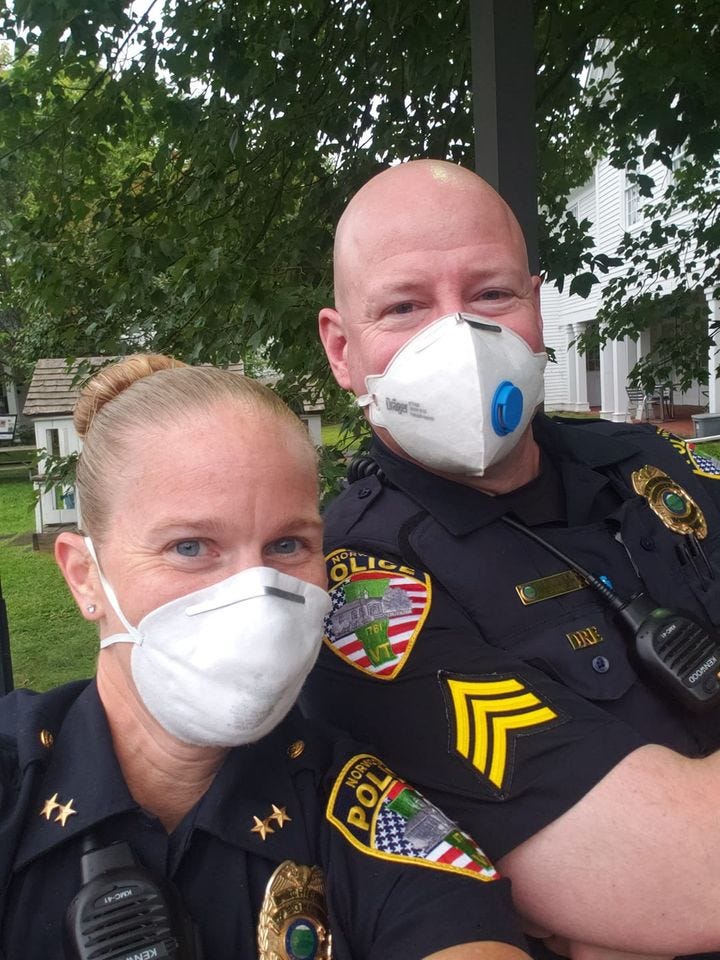 Chief Jennifer M Frank and Sgt Simon Keeling out and about and singing in the rain