Discover more from My Newsletter "about Norwich"
My stories are about people and events in Norwich and sometimes out and about the Upper Valley, The stories are meant to inspire and bring the community together. I will do my best to write positive stories and offer you some informative topics also.
Norwich Historical Society Receives Award of Excellence
Award will be presented at NHS on October 15, at 12:00 Noon
Good Evening All,
I would like to share this press release issued today with you and also take a moment to congratulate Sarah Rooker and NHS for the work that they do to make sure what happens today becomes history tomorrow so that future generations can enjoy.
Here is the press release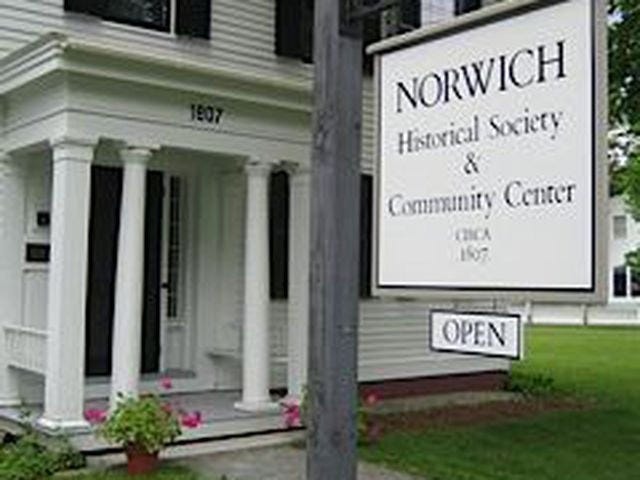 This photo was taken from a story that I did for NHS last year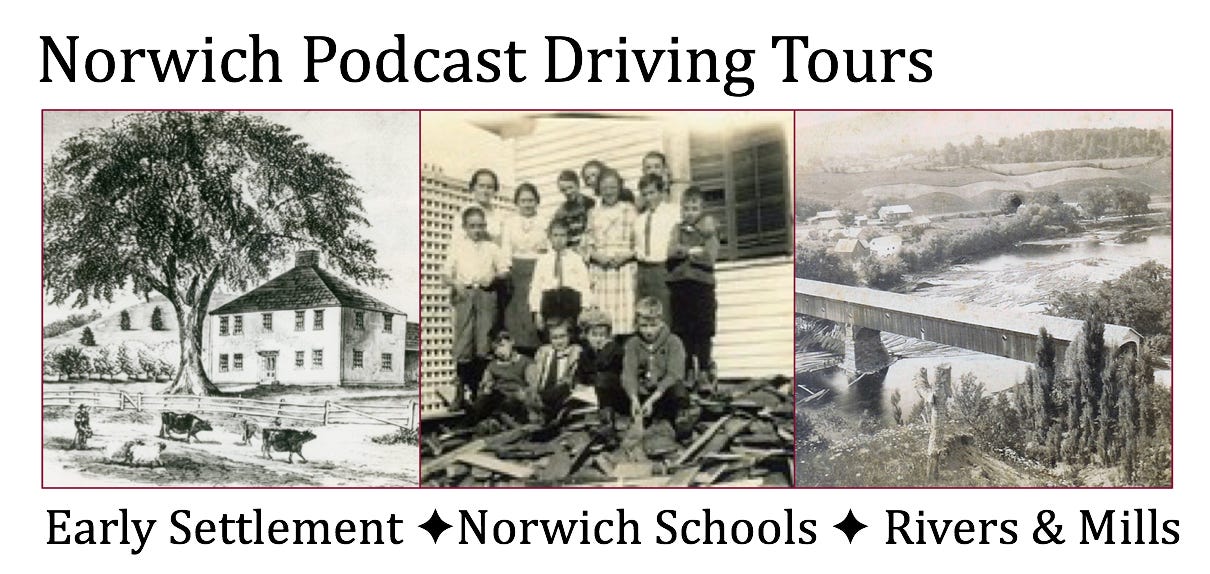 Photo courtesy of NHS

Photo is from an earlier story on the Podcast Driving Tours and is courtesy of NHS
PRESS RELEASE
October 1, 2020
Norwich Historical Society Receives Award of Excellence.
Norwich Historical Society has received an Award of Excellence from the Vermont Historical Society. The award recognizes the Norwich history podcast driving tours that Norwich Historical Society produced last spring while the community was sheltering-in-place.  Vermont Historical Society will be presenting the award at Norwich Historical Society on October 15 at 12:00pm.
The podcast driving tour project was funded by a grant written by the Norwich Historic Preservation Commission.  The grant funds were provided by the National Park Service, Department of the Interior, through the Vermont Division for Historic Preservation.
Norwich Historical Society produced three podcast driving tours—Early Settlement, Norwich Schools, and Mills & Rivers. A comic book, written by Emily Zea, accompanies the Early Settlement Tour. The Norwich Women's Club has funded a second comic book to accompany the Mills and Rivers podcast tour. This will be published in November.  All the tours and the comic book can be found on the Society's website: www.norwichhistory.org and downloaded through Apple Podcasts and Google Play.
Every year the Vermont Historical Society presents the League of Local Historical Societies & Museums (LLHSM) Achievement Awards. These awards recognize the exceptional work being done by individuals and community heritage organizations throughout the state to collect, preserve and share Vermont's rich history. Four organizational awards, and five individual awards were bestowed this year.
The LLHSM Achievement Awards recognize work in a variety of categories and levels. Organizational awards are conferred at two levels. An Award of Excellence recognizes superlative achievement, impact, and innovation while an Award of Merit recognizes achievement within the context of available resources and professional abilities. Individual Achievement awards honor a person's work and commitment to local history over an extended period of time.
About VHS
The Vermont Historical Society (VHS) is a nonprofit organization that operates the Vermont History Museum in Montpelier, the Vermont History Center in Barre, and programming throughout the state. Established in 1838, its purpose is to reach a broad audience through outstanding collections and statewide outreach. The Vermont Historical Society believes that an understanding of the past changes lives and builds better communities. Visit the Society's website at https://vermonthistory.org.