Discover more from My Newsletter "about Norwich"
My stories are about people and events in Norwich and sometimes out and about the Upper Valley, The stories are meant to inspire and bring the community together. I will do my best to write positive stories and offer you some informative topics also.
Norwich Inn Updated hours
To keep up with the new restrictions issued by Governor Scott
Good morning Norwich and Upper Valley strong, I am posting this new schedule from the Norwich Inn as I have done for other businesses to keep you informed. There is a link to access the goodies which are still available. I am going to try the beer and cheese special.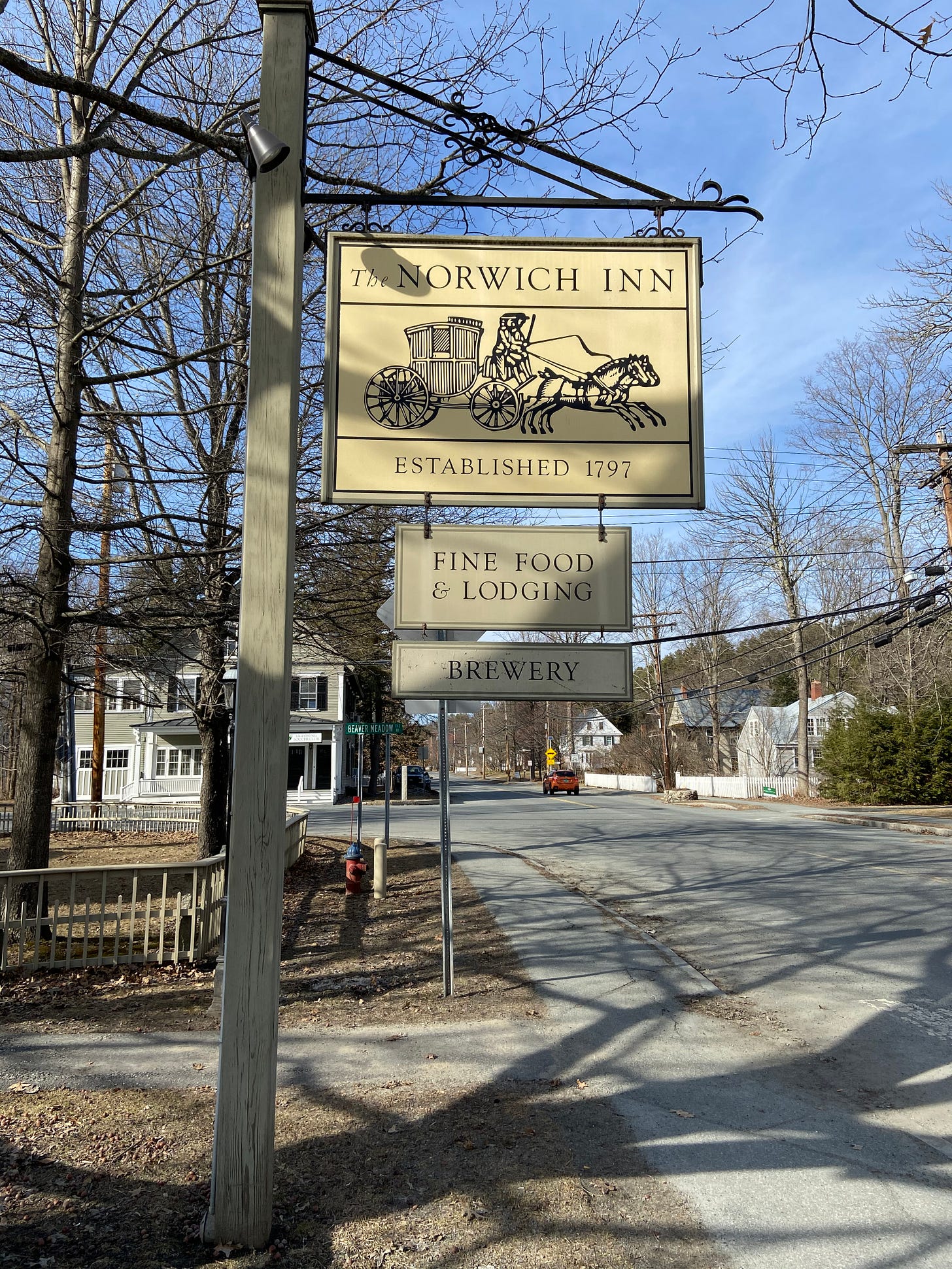 22. Change to Hours of Operation @ The Norwich Inn
From: <dave@norwichinn.com>
Date: Wed, 25 Mar 2020 11:07:40 -0700

Due to the new restrictions put in place by Governor Scott, The Norwich Inn will be running with minimal staff through April 15th. We will have one person at the Front Desk from 10 am to 6 pm each day to answer any phone inquiries and to continue to sell beer and cheese for retail purchase. We will still be offering the specials below but do ask that if you would like curbside pick up that you call the Inn ahead of time to let us know what you would like. The number for the front desk is (802) 649-1143.

See what beers we have available here: https://www.norwichinn.com/brewery/

With our Restaurant being closed, we have a surplus of beer to offer from our on site Brewery. Consumption of beer is always a good pastime but especially under the current circumstances. Take advantage of one or all of the Brew Specials below and help us "burn off" some of our inventory.

All 22 oz Bombers $5 Regular or $6 Premium
Buy 2 $9 Regular $11 Premium

64 Oz Growlers
$10 Reg; $12 Premium
(excludes Growler Bottle you can buy but many of you have one!)

Beer & Cheese
Buy a a regular or premium bomber bottle of beer or growler at special prices & enjoy a block of our signature Whistling Pig Cheddar for 50% off

Also, we are excited to announce that our newest Brew "It's About Time" our first New England Style IPA is available for growler fills or in 22 oz. Bombers

All of these specials are available at the Front Desk

Thank you to everyone that has already stopped by to purchase beer. We are grateful for the community support.