Discover more from My Newsletter "about Norwich"
My stories are about people and events in Norwich and sometimes out and about the Upper Valley, The stories are meant to inspire and bring the community together. I will do my best to write positive stories and offer you some informative topics also.
NWC has some great programs and events happening this fall.
Check out some save the dates in this announcement
I am posting this announcement from the Norwich Women's Club to bring your attention to their fall programs and events.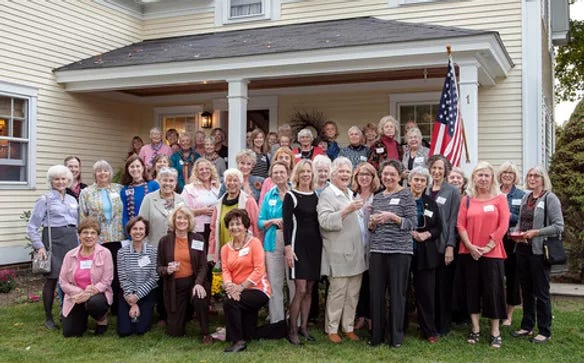 Cover photo courtesy of Norwich Women's Club web site
Here is the announcement that appeared in the List Serv.
Hello, NWC supporters!
It's been a long, weird summer!  Fall is finally upon us, and although COVID numbers in the Upper Valley are promising, we won't be able to gather indoors for our usual fall and winter activities this season.  We do have some great programs and events coming up, though - including two chances to mingle IN PERSON (outdoors and distanced, of course).  
Upcoming events, open to all: Monday, September 7th: Coffee and Conversation at the Norwich Inn, 10-11am, outside on the porch.  
Sunday, September 13th: Fall Gathering, location TBD, 3-5pm.  In order to facilitate contact tracing and make sure we don't exceed state number limits, you MUST register your attendance HERE.  
Last Mondays of the Month (starting 9/28): Virtual coffee and conversation led by Anna Adachi-Mejia, 4:30-5:30pm.  Permanent zoom link is here: 
Join Zoom Meeting
https://us04web.zoom.us/j/79415278745?pwd=VzJIODBwVWhyRjloY2Z2WWdMamhyUT09
Meeting ID: 794 1527 8745
Passcode: 6QTkHG
Women, Wine and Wisdom (drinking in your home edition) will also return this winter...stay tuned for updates!
As you may have noticed, the Nearly New Sale is sadly absent from our upcoming events. In reviewing the situation, the NNS committee felt that there are too many hurdles to make the sale both safe and worthwhile this year. Tracy Hall is still not open to the public, and the committee has heard real concern from many of the loyal NNS volunteers about their willingness to participate. An online sale was considered, as was a tent arrangement, but in the end it was agreed that they are not feasible alternatives.
Stay safe,
Lily Trajman
NWC President