SOUP & BREAD LUNCH TO BENEFIT NORWICH PUBLIC LIBRARY
Is it soup yet? No, but It will be soon
Hello Norwich and Upper Valley residents. This is an announcement from the Friends of the Norwich Library who are putting on this event. Here are the facts and the rest of the story.
SOUP & BREAD LUNCH TO BENEFIT NORWICH PUBLIC LIBRARY
Saturday, March 7th, from 11:30 AM to 1:00 PM at the Norwich Grange (on Main Street, between the Library and Tracy Hall).
Come enjoy a variety of homemade soups (including vegetarian options), breads from King Arthur Flour, homemade desserts and cider.
Cost: $10 for adults, $5 for kids (ages 6-12), and kids under five eat free. Pay once at the door and try as many soups as you like. Come enjoy the food and visit with friends and neighbors! 
Lunch is sponsored by the Friends of the Norwich Library. 
Funds benefit programs at the Norwich Public Library, such as First Wednesdays, VT Humanities Council Reading and Discussion groups, subscription to the NY Times, Summer Reading Programs, etc.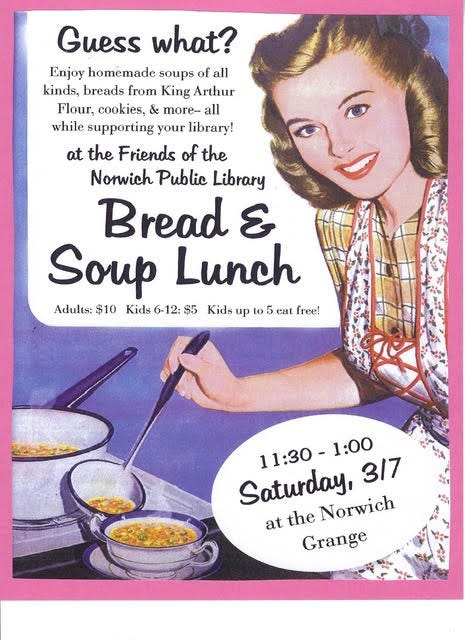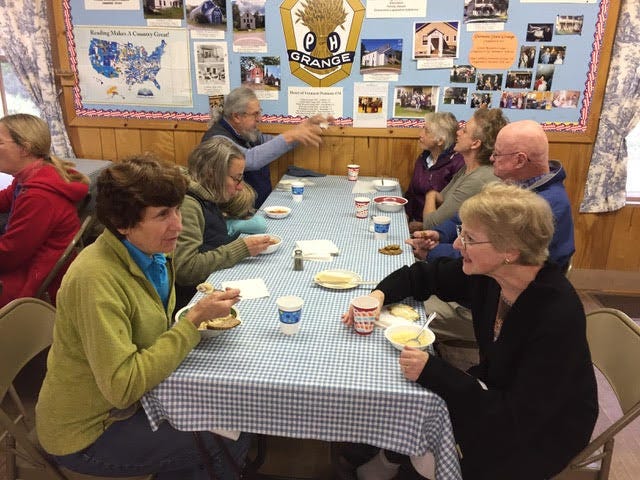 This photo was from a previous soup and bread lunch and was provided by Margot Nutt.
My Logo