Discover more from My Newsletter "about Norwich"
My stories are about people and events in Norwich and sometimes out and about the Upper Valley, The stories are meant to inspire and bring the community together. I will do my best to write positive stories and offer you some informative topics also.
The AT Journey is now complete
Mount Katahdin " The finish line"
Gigi and Gutcheck have made it to Maine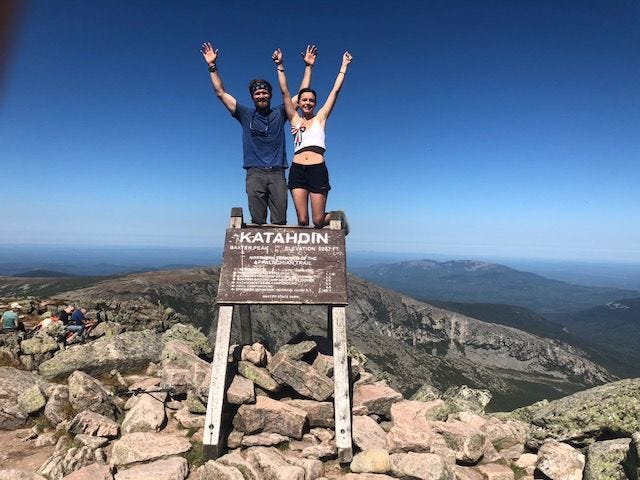 This is the final phase of a story that was in 3 parts. The first was the " Tale of two G's" a trip from the state of Georgia to Norwich, where I met up with them at the Blue Sparrow restaurant.
 The second story begins when they leave Norwich and head east toward Maine. The title is : And the saga heads east.
This story title is "The AT journey is now complete".
I received an e-mail from Harvey Freeman and here is what he had to say:
We made it!!!  I guess the e-mail  did not go through earlier.  We finished on 9/13 
What an experience!!!!  I felt like Forrest Gump.......I am tired now and want to go home :)
The below photos were sent to me along with the e-mail. I also have supplied some info on Mount Katadhin, for your review.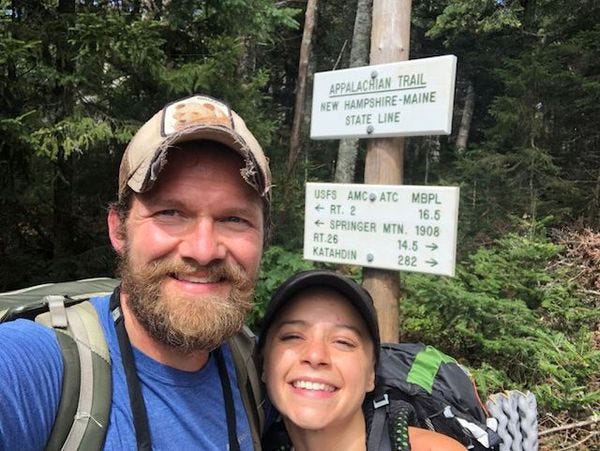 On their arrival to the New Hampshire-Maine State line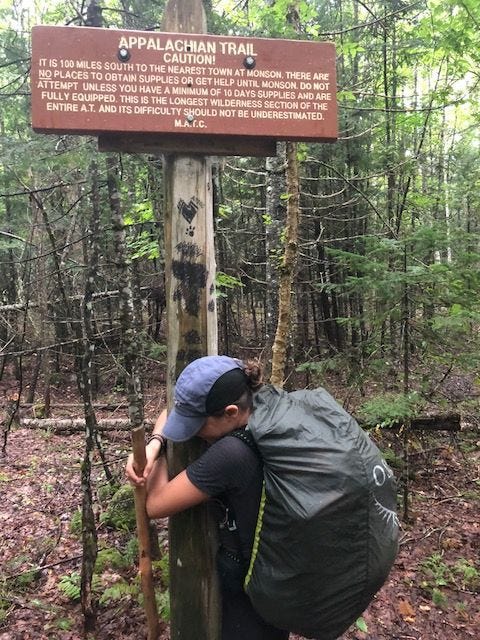 The joy is evident here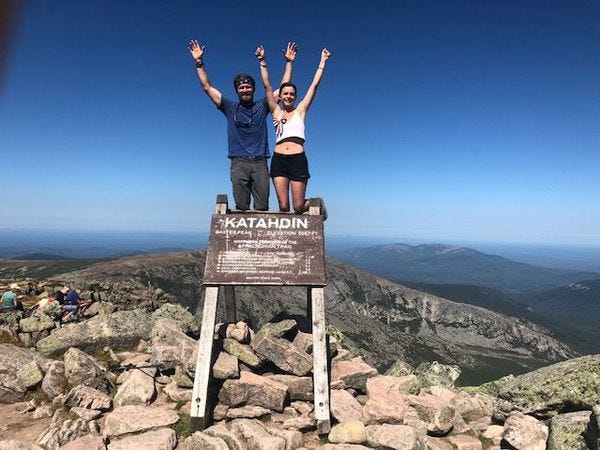 Their Journey has ended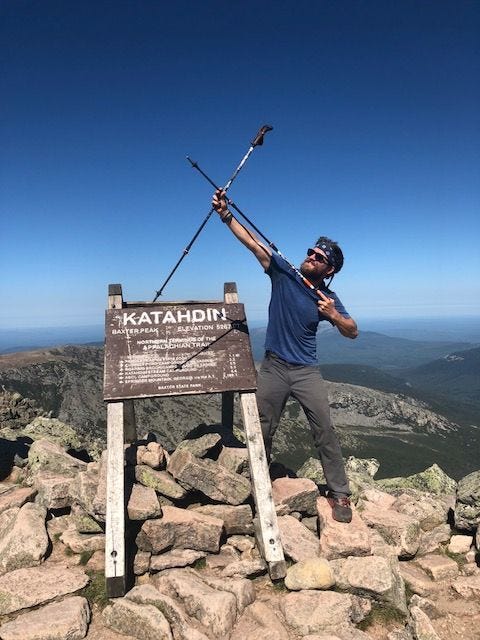 This picture says it all
I have included some information on Mount Katahdin below:
From Wikipedia, the free encyclopedia
Jump to navigationJump to search
Mount KatahdinKatahdin from 10,000 ft (3,000 m)Highest pointElevation5,267 ft (1,605 m)  NAVD 88[1]Prominence4,288 ft (1,307 m) [2]ListingNorth America isolated peaks 78th U.S. state high point 22nd New England Fifty Finest 2nd New England 4000-footersCoordinates45°54′16″N 68°55′17″WCoordinates: 45°54′16″N 68°55′17″W[1]Geography Mount Katahdin Northeast Piscataquis, Piscataquis County, Maine, U.S. Show map of MaineShow map of the USShow all Parent rangeAppalachian MountainsTopo mapUSGS Mount KatahdinGeologyAge of rockDevonian, Acadian orogenyMountain typeGraniteClimbingFirst ascent1804 by Charles Turner, Jr.Easiest routeHike, Abol Trail / Hunt Trail
3.8 miles (6.1 km)U.S. National Natural LandmarkDesignated1967Mount Katahdin (/kəˈtɑːdɪn/kə-TAH-din) is the highest mountain in the U.S. state of Maine at 5,267 feet (1,605 m). Named Katahdin by the Penobscot Indians, which means "The Greatest Mountain",[3] the mountain is located within Northeast Piscataquis, Piscataquis County, and is the centerpiece of Baxter State Park. It is a steep, tall mountain formed from a granite intrusion weathered to the surface. The flora and fauna on the mountain are typical of those found in northern New England. Katahdin was known to the Native Americans in the region, and was known to Europeans at least since 1689. It has inspired hikes, climbs, journal narratives, paintings, and a piano sonata.[4] The area around the peak was protected by Governor Percival Baxter starting in the 1930s. Katahdin is the northern terminus of the Appalachian Trail, and is located near a stretch known as the Hundred-Mile Wilderness. The mountain is commonly called just "Katahdin",[5] though the official name is "Mount Katahdin" as decided by the US Board on Geographic Names in 1893.[6]